April is APIDA Heritage Month
We at CPHA celebrate APIDA communities and individuals. Your presence enriches campus, every community you are a part of, and the world. We stand in support of all APIDA communities and in solidarity with everyone who opposes racism, discrimination, and violence. We stand against white supremacy and condemn the violence against people in APIDA communities that has risen during the pandemic but has historically always been present. Discrimination and violence against anyone anywhere at any time is unacceptable, and we will not be silent.
Statements like this do not fix broken situations. But we share it in expression of solidarity and support — and we urge action and underscore the importance of education and raising awareness about APIDA histories and cultures to stop violence and discrimination.
We stand with APIDA members of the UW-Madison community (and the world) as allies. We need and value you. And we call all allies to do anti-racist, liberation work that addresses racism and injustice. We all can and need to work to make the world more like it could and should be.
Click here for support and learning resources
.
CPHA Virtual Events & Resources
Four Year + Planning Workshops
These workshops are a great place for first-year pre-health students to begin learning about and planning your pre-health coursework and experiences. Check out the
2 workshops
in April!
APPOINTMENTS
IN MAY:
appointments for
applicants only
for Second Year (including all transfer) Students and Up:
find a time that works for you in
Starfish
If our schedules are full when you want to meet, talk with us in Drop-Ins!
DROP-INS
IN MAY:
drop-ins for
applicants only
for Second Year (including all transfer) Students and Up:
Additional Applicant-Only Drop-Ins beginning
April 19
:
Mondays, Tuesdays, and Wednesdays (9:30-12 pm and 4:30-6:30 pm)
FIRST YEAR FRIDAYS
Drop-In Advising for all First Year Students:
IN MAY:
Friday drop-ins also for
applicants only
Healthcare Exploration Events
National Public Health Week
UW-Madison School of Pharmacy Open House
Learn about the admissions process, application timeline, prerequisites, and the selection criteria for the
UW-Madison School of Pharmacy
and hear from a student panel about their experiences.
Northwestern PA Program
Virtual Information Session
Join
Northwestern PA Program
for a virtual information session. This event will include discussion about admissions, applications, and program details with a student & faculty panel.
Choose DO Medical School Virtual Expo
UMHS MD Program Virtual Panel
Yale University Online PA Program Workshop
Application Workshop. The webinar will cover a range of topics, including a program overview, admissions requirements and prerequisites, application deadlines, and essay and LOR tips.
University of Iowa
Pre-Health Conference
Southern California College of
Optometry Open House
Healthcare Career Spotlight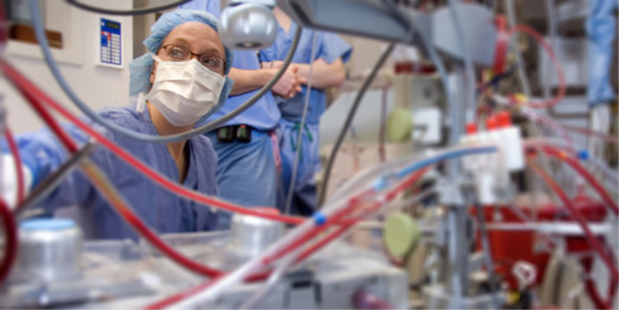 Cardiovascular Perfusionist
Perfusionists are trained members of a surgical team who temporarily perform the heart's job during open-heart surgeries and other major procedures by operating circulation equipment such as a heart-lung machine.
They monitor and manage a patient's blood flow, body temperature, and other respiratory functions during operations.
They must have a great knowledge of anatomy and physiology, be detail oriented, and have mental and physical endurance for long surgeries
Become a Certified Clinical Perfusionist (CPP) by:
Completing a bachelor's degree with common prerequisite courses
Attending an accredited training program in cardiovascular perfusion (1 year certificate or 2 year master's options available)
Completing a certain number of cases
Sitting for an certification exam
Find a Perfusionist to shadow or (or set up a safe informational interview) HERE!
More Events and Opportunities
UW-Madison LGBTQ+ Health Summit
This summit reinvigorates LGBTQ+-identified healthcare professionals, students and community members in finding community and support in practice.
COVER/AGE Documentary Screening
Join Dreamers of UW-Madison for a screening of the documentary
COVER/AGE
,
which follows the lives of two undocumented leaders, Emma and Héctor Plascencia, who advocate for expanding healthcare rights to all regardless of immigration status.
Expedition Medicine:
The Expedition Doctor
Badgers Exploring Biohealth
& Biotech Careers
Attend this virtual trek to learn more about career opportunities in biohealth and biotech working in research and development inside and outside the lab, bioinformatics, and business operations.
Community Health Seminar: Combatting Healthcare Inequities
Join the Wisconsin Pre-Medical Society in a discussion of the current disparities and inequities in our healthcare system with researchers and medical professionals. Open to all students, register using the form provided.
AHANA Health Disparities Conference
Join UW-AHANA's 9th Annual Health Disparities Conference featuring writing workshops, student panels, raffles, and plenty of guest speakers! This event is free and open to all students and community members.
Aerospace Medicine:
Practical Emergency Medicine
Late Spring Career &
Internship Fair 2021
It's not too late to find a job or internship this spring! Attend this virtual late-semester fair to connect with employers who may not have had available opportunities earlier in the year. All majors are welcome.
Decolonizing Care in Health Equity
Internship, Summer, & Job Opportunities
Undergraduate Summer Research Position with Dept. of Entomology
Applied vegetable entomology research and the field crops pathology research programs seeks qualified individuals to work in a variety of capacities to conduct field and laboratory, entomology and plant disease-related, research. Student hourly positions begin approximately June 1 and run through the end of August. Daily schedule approximately 7:30 am ~ 4:00 pm, Monday through Friday, total of 40 hours per week. Transportation from Russell labs to the research sites (e.g. Arlington and Hancock Agricultural Research Stations) will be available. Interested students should submit a resume with a brief description of themselves and work experience to Brian Mueller (bmueller5@wisc.edu) by April 9, 2021.
Community HealthEd Volunteer Positions Open
Community HealthEd
is a 501(c)(3) nonprofit organization that aims to promote student medical writing opportunities and community health education. Community HealthEd currently has open applications for a number of
volunteer positions
that pre-health students may be interested in. Applications will be accepted on a rolling basis until Friday, April 9th at 11:59 PM EST.
The Wisconsin Alzheimer's Disease Research Center Health Reporting Internship
The Wisconsin Alzheimer's Disease Research Center
and
Madison 365
invite you to apply for an eight-week, full-time summer internship to cover important issues around health, wellness, health equity, aging and more health-related topics for Madison365, the state's leading news outlet for communities of color. This internship will provide a generous full-time wage to a University of Wisconsin-Madison student who is an aspiring journalist for eight weeks during the summer of 2021.
City Year Americorps
City Year is a national educational non-profit that operates in 29 cities and hires over 3300 City Year Americorps members to work full-time as paid workers supporting teachers and students. City Year alumni go on to careers in healthcare, education, law, business, and more. $1260 / month, federal student loan forebearance, $6195 Education Award, health insurance, free transit pass, $500 relocation allowance, and access to scholarships.
Learn more
.
Ask for more information
.
Watch a City Year video
.
Watch a City Year panel about the program and application process
.
ASM Volunteer and Paid Positions
Applications due April 16-24
The Associated Students of Madison (ASM) is looking for new leaders to help advocate for students across campus. A variety of applications are open for both volunteer and paid positions for the next academic year with deadlines that range from April 16-24. If you are interested in student advocacy through grassroots organizing, governance, or allocating segregated fees, check out
these opportunities
. Questions? Please reach out to ASM at
info@asm.wisc.edu
with any questions.
Dental Associate Position with Americorps VISTA
Wisconsin's Association of Free and Charitable Clinics
(WAFCC) invite you to apply for a 10-week paid opportunity this summer at a non profit dental clinic, Affordable Dental Care Inc. in Madison, WI. This full time summer associate position offers the opportunity to get hands-on experience in a dental clinic and see everything that goes into keeping a free clinic sustainable. As a VISTA member the associate would receive a monthly volunteer stipend and have the option of a cash payout or education award upon successful completion of the program. This is an invaluable opportunity to a pre-dental student! Questions? Please contact Scott Sivola, WAFCC Americorps VISTA Leader, at (319) 415 8891 or
scott.sivola@wafcclinics.org
.
Undergraduate Scholarship for Summer Study
Must be in good academic standing
Must enroll in at least one UW-Madison summer course by May 1, 2021
Submit application by 11:59pm on April 11, 2021
Summer Finish
For students need summer courses to complete your degree
Must be eligible to graduate with planned summer coursework
Submit application by 11:59pm on April 11, 2021
Transfer Scholars Summer Award
Award is automatically applied to the tuition bills of students who transferred to UW-Madison in spring 2021 and enroll in courses in summer 2021.
Anatomy, Physiology, and Exercise Physiology
PLANNING ON ONE OF THESE COURSES IN SUMMER 2021?
The Kinesiology Department plans to offer ANAT&PHY 335 and ANAT&PHY 337 completely online in Summer 2021. They also plan to hold ANAT&PHY 338 Anatomy Lab as a hybrid course. Two days of lab will be online synchronous and the other two will be in person. Kines 314 Exercise Physiology will also be offered to anyone who needs it to apply to UW-Madison's PT program, most likely as an online course.
UW Center for East Asian Studies
Asian Mental Health Collective
Season 2 follows Asian Americans taking action during the pandemic