Greetings from Vilas Hall, where we are dusting off our desks, resuscitating our plants, and throwing away calendars open to March 2020. I am proud of the way we responded to the extremely difficult conditions imposed by Covid-19. Faculty invented new ways of teaching, collaborating, and researching. Staff responded with extraordinary commitment and energy to last-minute shifts in instructional modes, and to the resulting expansion in tasks connected to scheduling, advising, and Media Center operations.
Students demonstrated unbelievable strength and flexibility while coping with the stress of isolation and illness. The 2021
Wisconsin Film Festival
, held online, streamed 120 excellent films from 33 different countries; more than 20,000 cinephiles tuned in. Our amazing alumni donated scholarship funds and created internships for our students. Thank you for your commitment to Communication Arts!
- Kelley Conway, Chair, Department of Communication Arts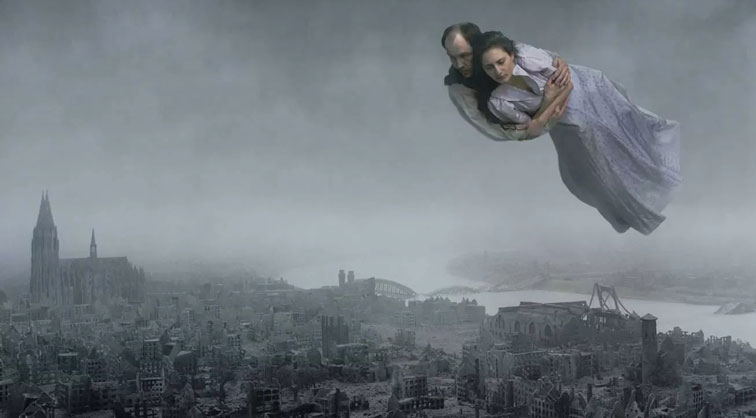 SCENE FROM
ABOUT ENDLESSNESS

In July and August, the
UW Cinematheque
returned to in-person screenings at its regular campus venue, 4070 Vilas Hall. Seating was limited according to UW social distancing guidelines, but the Cinematheque attracted a robust audience to its 35mm screenings of Hollywood classics and films from Hong Kong, India, France and the Netherlands. The Cinematheque will return to full capacity screenings at 4070 Vilas in Fall 2021 with Swedish master Roy Andersson's
About Endlessness
on September 3 and a 35mm print of Quentin Tarantino's
Once Upon a Time in Hollywood
on September 4. The calendar stretches from Labor Day weekend through December 18 and will include new cinema from India, movies from American indie auteur Joan Micklin Silver, auteurist classics from Luis Buñuel, Akira Kurosawa, & Billy Wilder, and discoveries from the silent era featuring live musical accompaniment.


Professor Jenell Johnson honored with Fellowship and writing award
Though her academic home is in Communication Arts, Professor Johnson works at the intersection of rhetorical studies, disability studies, and the medical humanities. Praised by colleagues for her productivity, academic rigor, and originality, Johnson has published five books and a wide array of additional works since joining the UW-Madison faculty in 2012. Johnson is honored with the
H.I. Romnes Faculty Fellowship
and the Rhetoric Society of America's
Charles Kneupper Award
. Her current book project,
On behalf of life
, explores definitions and arguments for life's protection and preservation.
Kelly Jensen and Matt St. John recognized with Letters & Science Teaching Fellow Award
Kelly Jensen is a PhD candidate in Rhetoric, Politics, & Culture. Highly regarded as a teaching assistant for several Comm Arts courses, Jensen has served as lead instructor for CA 200, Introduction to Digital Communication. She has excelled at creating imaginative, multimodal class lectures and activities, combining synchronous discussion, break-out groups, and different technological platforms to help students learn effective communication strategies.
Matt St. John is a PhD candidate in Film. St. John is recognized for a creative, adaptive approach to instruction. For example, when responsible for five discussion sections of CA 552, Contemporary Hollywood Cinema, St. John adapted his teaching style to accommodate the unique factors of each section, like varied numbers of students or the different spaces on campus where he taught. He is also praised for creating an inclusive classroom, screening works by a diverse range of filmmakers, and encouraging student participation in class discussion.
As recipients of the Letters & Science Teaching Fellow Award, Jensen and St. John are named L&S Teaching Fellows and will serve as instructors at the Letters & Science Fall 2021 Teaching Assistant training, which welcomes 300-400 new and experienced TAs from across campus.


Veteran television writer Jim Hirsch (BA'69) taught his final screenwriting class in 2019, completing fifteen years of teaching for the Department of Communication Arts. Hirsch, celebrated for his wit and wisdom both in the classroom and on the CAPS alumni board, asserts, "if you want to really learn something, teach it," and "writing is rewriting." His students praise his deep industry experience, constructive feedback, and responsiveness to their ideas.
Caroline Dunphy (CA'16), Digital Producer on
Full Frontal with Samantha Bee
, recalls "It was definitely one of the more free-form classes I've had at Wisconsin. (The class) teaches you to both take constructive criticism, and then also keep going if you think they're wrong. He was always available to read our scripts, even after we graduated."
Joe Otterson (CA'11), Senior Reporter at Variety.com, remarked "Any time you came to him with something, he was genuinely invested, he wanted to make what you are writing as good as it could possibly be."
Hirsch says his years teaching at UW "changed my life in so many ways for the better, and I would recommend that everyone volunteer their time to help the University in any way they can. It will enrich your life as it has mine."
While Hirsch has ended his long tenure as a screenwriting instructor, he is not ready to retire, keeping busy with numerous projects, including co-charing The Caucus for Producers, Writers & Directors and offering his screenwriting expertise to a global audience through Neighborhood Playhouse School of the Theater. He continues to create new television, theater, and film projects and is still active in production studio real estate.
With the inaugural CAPS Distinguished Service Award, Comm Arts offers our heartfelt thanks to Jim Hirsch for his long service to a generation of aspiring screenwriters and industry professionals.


Alice Ferris (BA'91, MBA'94) is the founding partner of GoalBusters Consulting, a firm which helps nonprofits with strategic planning and fundraising. Last year, the Association of Fundraising Professionals (AFP), the largest community of fundraising professionals in the world, awarded Ferris its Founder's Medallion, recognizing her for extraordinary contributions to the organization and the fundraising profession.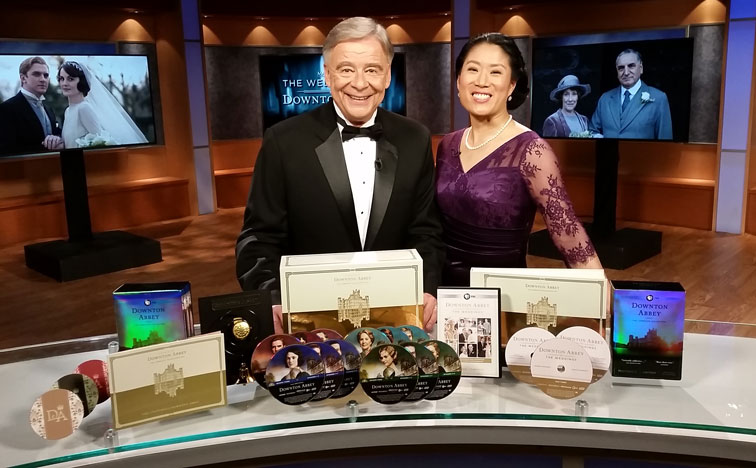 ALICE FERRIS WITH KEN VERDOIA, SUPPORTING A PBS PLEDGE DRIVE
Tell us about your work.
My company, GoalBusters Consulting, works with smaller fundraising teams to help them build resources for their causes. Sometimes we help them plan, for others we provide training, and for a select group of organizations, we join their team. We like to say that we can teach you to fish, show you where the fish are, or fish for you.
I started the company in 2001 after several years of consulting part-time as a side hustle. We took the company full-time in 2007 and now have 9 associates based in the US and in The Netherlands.
What do you enjoy most, and least, about your work?
What I most like is that I work with people that find meaning in their work. Even when they are frustrated or challenged, they believe they are a part of a bigger vision. They just need me to remind them of that every now and then. The other thing I like about my work is that I'm a problem solver. The organizations I work with have puzzles--obstacles to success--and I try to solve them.
What I least like about my work is dealing with people who think that a consultant will print money for them. It's not just about the money. While we are here to help build resources and try to raise more money, we're more focused on helping the organization be sustainable long-term with skills development, process improvement, and a focus on solid relationships with donors.
What was something unexpected you discovered when pursuing your career?
I didn't expect to run my own company. I thought I would work for other organizations for my entire career, especially since my entrepreneurship professor in my MBA program said I wasn't cut out to be a business owner! Now, after 20 years of running the company, I would never go back.
Also, I didn't expect donors to thank me for helping them support a cause that's important to them. Most donors that I work with are philanthropists in the truest sense--they have an innate love of humankind. When I help them figure out a way to make a difference with an organization, they are surprisingly grateful. I didn't expect that.
How do you trace your work back to your time in Communication Arts?
I started my fundraising career at PBS Wisconsin (then Wisconsin Public Television) which led to a 30+ year history fundraising for public media. I still work with both PBS national and local public and community radio stations on a regular basis. I never thought that the television studio and audio production skills I learned in my classes would continue to serve me many years later! For example, I'm the voice of underwriting for KAWC and Border Radio in Yuma, Arizona, the local NPR affiliate, and community music stations. I produce spots in my home studio almost daily!
Also, one class that is a surprising resource that I draw on regularly was the soap opera class. In that class, I learned not only the practical bits of producing a show but also a lot about leadership and management. The skills I learned relating to leading a team still stick with me today and helped form my leadership style. A shout out to Chad Dell for his leadership and infinite patience in that class!
What are the challenges and rewards of serving on the Communication Arts Partners board? Why should others consider it?
It's been a little odd because I started on this board right before the pandemic, so I don't know that I feel very connected to the board members yet. But I would say one reward has been the opportunity to offer an internship to a Comm Arts student. We had exceptional applicants that led my partner, Jim, to say, "Wow, I now understand why you're so proud of your alma mater." Jim is obviously not a Badger. ;-)

Before joining Comm Arts in 1995 to teach production, Nietzcha Keene made a remarkable film called
The Juniper Tree
. It wasn't easy to shoot a low-budget, independent period piece in Iceland, but she pulled it off. Making the most of the challenge, she used the Nordic landscape to create a medieval fairy tale inhabited by only a few characters, and was the first to cast Icelandic singer Björk in a feature film.
Shot in black & white, the brooding, Bergman-esque work was screened at Sundance and enjoyed a positive reception from the indie world.
Recently, Keene and The Juniper Tree were rediscovered. With the support of the
Wisconsin Center for Film and Theater Research
, the film was restored and released in 4K and screened on the Criterion Channel to critical acclaim. David Ehrlich of IndieWire called it "A film that's dark and delightful and ripe for rediscovery," while Glenn Kenny of the New York Times commented, "In watching a newly restored version, I was struck not only by Björk's distinctive charisma...but also by the talent of the film's writer, director and editor, Nietzchka Keene."
Keene is remembered as a dedicated instructor, with a headstrong attitude and an infectious laugh. She made a point of including students in the production of her films, and of showing support for others' work, inspiring many to follow her example of independent filmmaking.
Los Angeles-based producer Wendi Weger (CA'89) worked as production manager on Keene's
Barefoot to Jerusalem
, which was shot in Madison. Weger recalls, "She was a filmmaker and a feminist who inspired me at a time when there were few other women as role models in the industry."
After Keene's untimely passing at the age of 52 in 2004, the department created the Nietzchka Keene Memorial Fund, which provides an annual prize for undergraduate student film and video production. Since its inception, the fund has supported the scholarship of 27 Comm Arts undergraduates.
We congratulate this year's winners: Nina Bosnjak, Benjamin Dellheim, Sarah Hanson, Rigoletto Lopez, Natasha Lugovskaya, Olivia Stevens, and Rosee Xiong.
Keene's legacy of creativity and artistic achievement lives on through her body of work, the gratitude and appreciation of her students and colleagues, and the Memorial Fund, which continues to support the efforts of the next generation of filmmakers.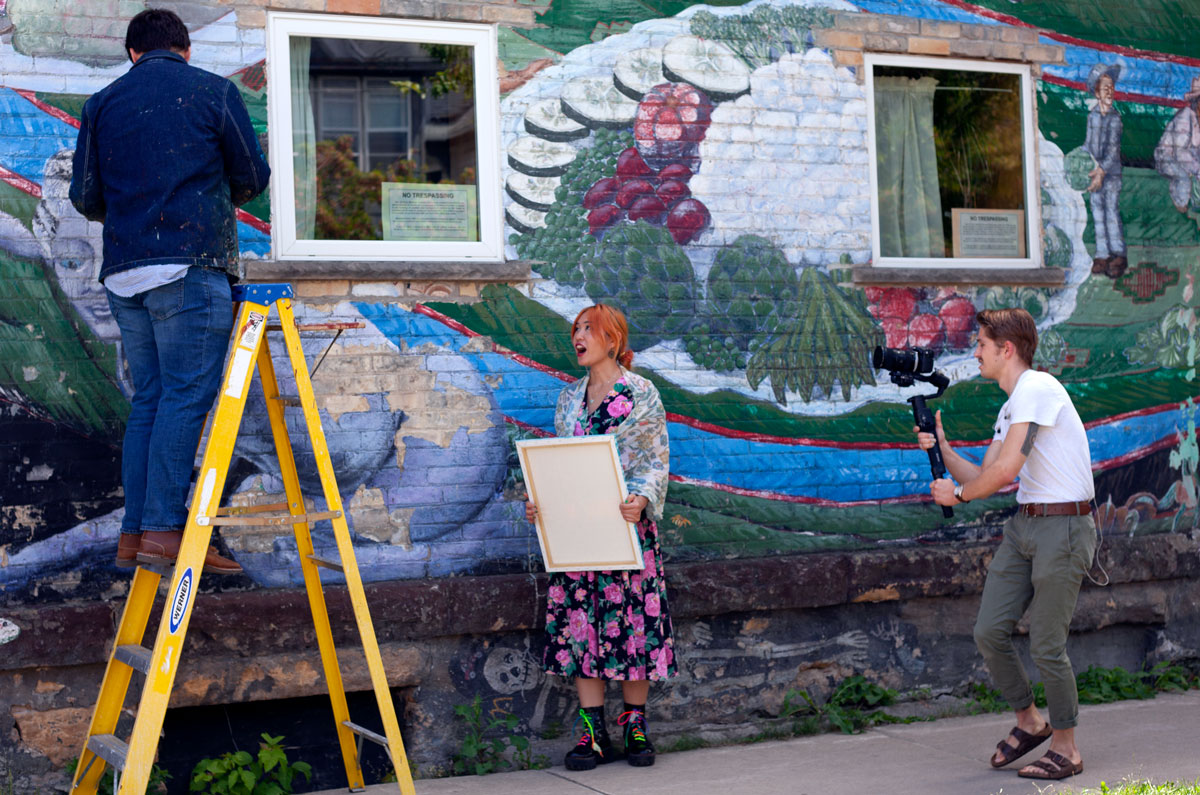 STUDENTS RE-CREATE A SCENE FROM
FRIDA
(2002)
This summer, advanced film production students studied with veteran director and CAPS alumni board member Sean Hanish in CA 609, Directing the Actor. Rex Wenger (with camera, above) notes, "Sean invited guests into our classes to give us an opportunity to ask other industry professionals about the tools of their trade. Alfred Molina (
Frida, Promising Young Woman, Indiana Jones
) joined us to discuss a specific scene's direction." Wenger re-created the scene at the corner of Mifflin & Bassett with Vi Bui as Frida Kahlo and Kaden Buck as Diego Rivera.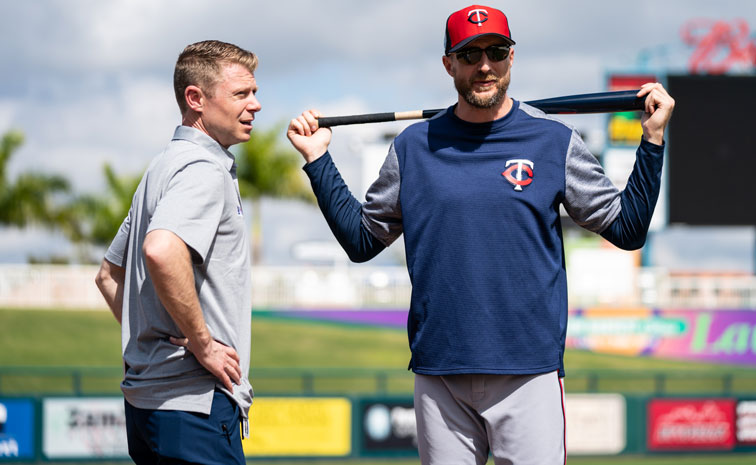 DUSTIN MORSE WITH MANAGER ROCCO BALDELLI

As a kid growing up in Lakeville, Minnesota, Dustin Morse (BA'01) played baseball, golf, and hockey in high school, imagining a future as a pro athlete. Arriving at UW-Madison in the late 1990s, Morse "fell in love with the campus, and traded [his] spikes and glove for an opportunity to learn." Morse favored his advanced Comm Arts courses, like CA 575, Communication in Complex Organizations, reflecting, "Class sizes got smaller, and multiple-choice exams were replaced by projects. I learned to think through decisions, how to make the case for my approach to solving a problem, and how to handle a tough crowd," skills he relies on every day as Senior Director of Communications for the Minnesota Twins baseball team.
Morse began his career as an intern at the Baseball Hall of Fame in Cooperstown, New York. He marveled that people would travel long distances just to see objects from baseball history -- like Hank Aaron's uniform from his 715th home run or a trophy Lou Gehrig was awarded by his teammates -- affirming his interest in telling stories of baseball.
After stints with the Chicago Cubs, Texas Rangers and San Diego Padres, Morse returned to his home state to join the Minnesota Twins in 2006, starting as a manager of media and player relations, and working his way up the ranks to land in his current role in 2015.
Each year, Morse works 160 games from April to October, which makes his role intense and demanding. "It's a little different than your average 9-to-5 job. Often, I am the first one to arrive and the last to leave," he says, coordinating player media appearances, arranging charity events, mentoring interns, and responding to every team-related event on the field and off.
The veteran communicator thrives in this environment. On the team's opening weekend of 2020, faced with a stadium devoid of dans, he improvised to generate good PR. Morse scoured the empty stands to recover balls, generating
good natured social media buzz
for his efforts.
Morse's work was honored by his peers in 2020 with the Robert O. Fishel Award for public relations excellence. The award goes to an "active, non uniformed representative of Major League Baseball whose ethics, character, dedication, service, professionalism and humanitarianism best represent the standards propounded by Robert O. Fishel."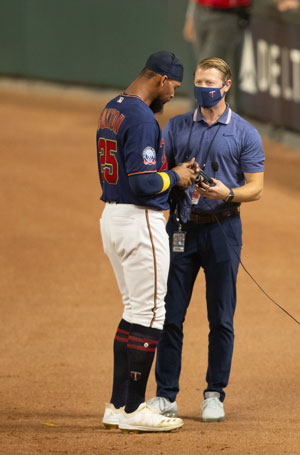 MORSE WITH CENTERFIELDER BYRON BUXTON
After 20 years in baseball, Morse remains passionate about the sport, "It's America's pastime, a game that connects generations, whether you're five or 95 years old." He savors "the magic moments that happen on the field, and the opportunity to put a smile on a young fan's face, change someone's day or brighten their outlook."
Morse regrets he can't enjoy baseball as a fan. "When anything happens in a game, I immediately start thinking about how my communications colleagues are responding." He also believes he "doesn't know what it's like to cheer" for the sport, as he is used to remaining neutral regardless of on-field action. But Morse is happy that as a long time Badger football and basketball aficionado, he can relax and enjoy UW-Madison's teams as just another fan.

We want to hear from you!
Supporting Communication Arts
To learn more about giving to the Department of Communication Arts, please contact Marit Barkve, Associate Director of Development,
marit.barkve@supportuw.org
, 608-515-3052.